About
The idea of Candy Galore and More was conceived out of my passion for cooking and serving the public through cuisine. Growing up it was a daily routine during the summer to help prepare meals with my Grandmother. We always used fresh ingredients whether they came from our garden or from the supermarket produce section. She instilled in me that fresh is always best and to take your time with the recipes. After growing up and finishing college, I developed a love for baking and making chocolate which I enjoyed preparing for my friends and co-workers for years.
   In 2012, Candy Galore and More began as a Chocolate Design Company participating in Farmers Markets and local events. Later that year, CGM launched its first online store for customers. From there it grew to making custom candy bars, chocolates and company logos. In 2016, a leap of faith led me to leave the hospital sector and pursue CGM full time. I was then presented with the opportunity to sell my chocolates at the Glenwood Tearoom in Shreveport while increasing online products available for shipping throughout the United States.
   In 2018, bakery items were introduced and met with a warm reception from the public. Later that year, a warm chocolate chip cookie delivery service was started and was well received by our clients. In an effort to get products to customers more efficiently, the vision of securing a dessert truck was felt to be beneficial in order for the business to fulfill this need.
   Through prayer this vision came into fruition and the Candy Galore and More dessert truck was customized and rolled out to serve its first customers in March of 2019 (Habakkuk 2:2). Now with a team of five, Candy Galore and More continues to add more products through its dessert truck and catering services. We currently offer breakfast, lunch and desserts for organizations, group events, and special occasions while also continuing to serve the Shreveport/Bossier community.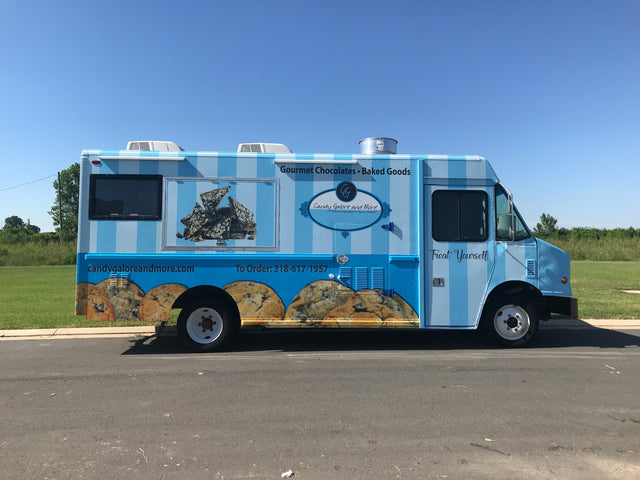 Book the Candy Galore and More Food Truck for your next Event!
Make your event spectacular by adding the Candy Galore and More Food Truck. We can customize our food and dessert menu according to your needs in order to make your event unique and memorable. Currently catering for Weddings, Workplace Events, Campus Student Organizations and Events, Large Scale Events, Production Catering, Professional Events, Private Parties and Community Events. Don't Delay, submit your form today for your special occasion. We are ready to serve you! 
Submit Form